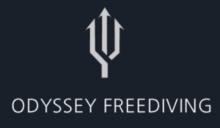 "Thank you very much for all your help, I am grateful to be applying for this grant to finally start the business I have been dreaming about for years." – Brandon Burke, CEO
More Info:
Website
Odyssey Education Group, LLC
Business Introduction:
Odyssey Education Group is an education and service-based business that teaches human performance skills in ocean and freshwater environments. This business offers specialized, freediving instruction for subaquatic performance needs for recreational, government, and military organizations. Brandon Burke is the Owner/Instructor.
What inspired the owner to start a business?
Brandon saw that the general marketplace is saturated with SCUBA diving, but in the last few years there has been an increase in interest in freediving, which can be defined as the sport or activity diving underwater without the use of a breathing apparatus. In addition, only a few qualified instructors meet the demand for instruction, especially in multiple modalities. Odyssey Education Group focuses on specialized instruction based on the needs of the customer, whether in recreational or professional environments, and Brandon has the expertise and credentials to instruct and certify.
What challenges did SBDC assist the business owner to overcome:
After working in the industry to gain the needed experience, Brandon wanted to start his own business, but needed help with accessing funding, ensuring that he properly established the new business as an LLC and other general startup paperwork. Establishing himself as a independent contractor to provide instruction for other dive shops and organizations allowed him to have immediate income for the business.
How was SBDC able to assist the client:
Brandon successfully completed the 6-week California Dream Fund training program on August 10, 2022. In addition, a Cal Coastal SBDC consultant provided him with 2 hours of 1:1 consulting to complete his business plan and prepare all the necessary documents to apply for the CDF grant and successfully launch his business.
Any metrics obtained:  
With SBDC help, Brandon invested $1,800 of personal capital and received a $10,000 grant from the California Dream Fund, to successfully open the business on December 6, 2022. The funds will be used to buy critical equipment, insurance, licenses, and marketing.
What did the owner feel was the most important part of the assistance received: 
SBDCs support through the instruction of the California Dream Fund training and 1:1 consulting support offered an incredible boost to get this business launched. The funding made it possible to achieve a long-time dream of starting this business in Monterey County, where the cost to live and operate a business is so high. Brandon is thankful for the learned tools that will help him run a successful business.