Primary tabs
BBB-Safeguarding Against ADA Lawsuits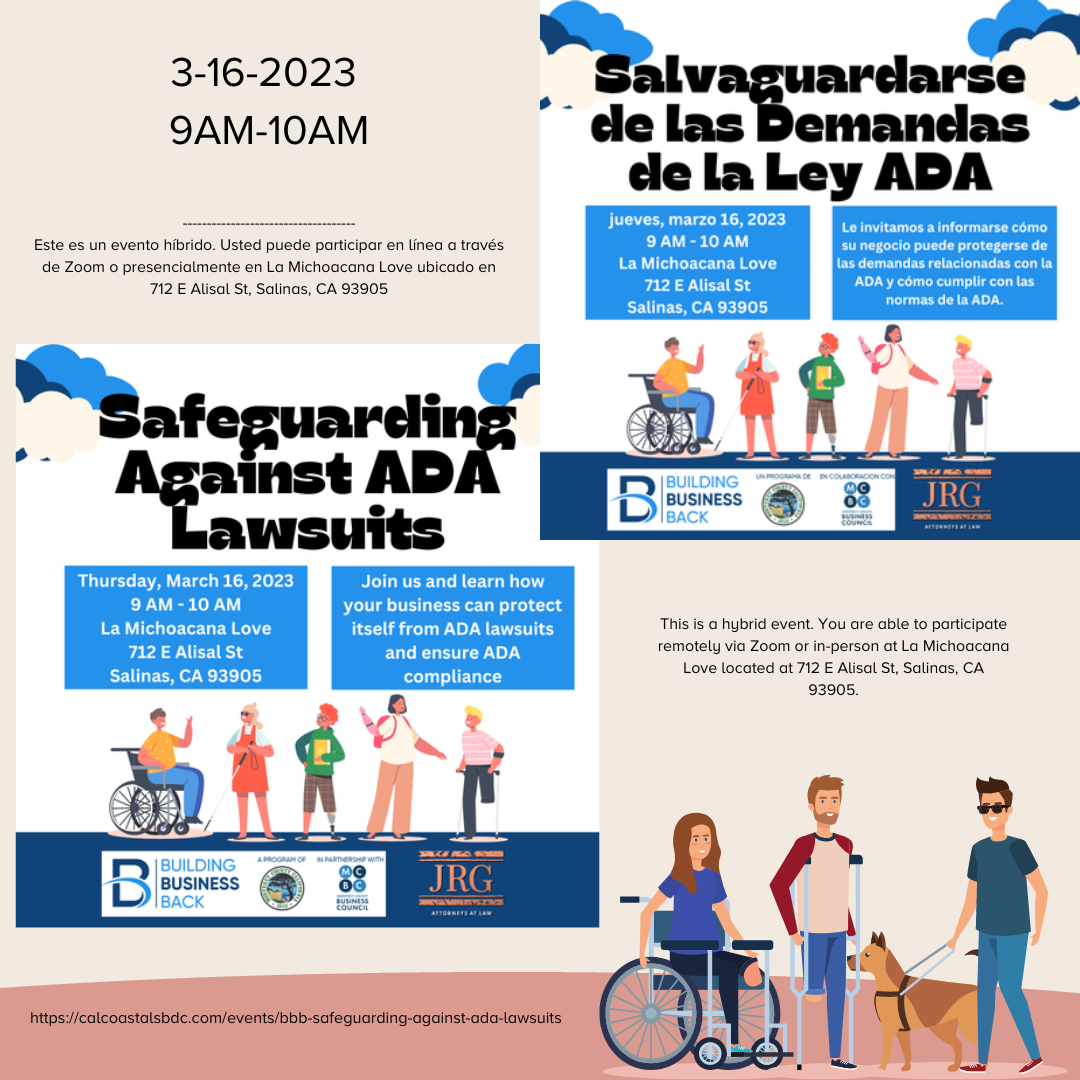 Thursday, March 16, 2023 -

9:00am

to

10:00am
Safeguarding Against ADA Lawsuits | Salvaguardarse de las Demandas de la Ley ADA
The American with Disabilities Act (ADA) can be something difficult to navigate and even more tricky to address once a formal complaint has been filed. With the rise of serial ADA lawsuit filings, it's more important than ever for our local businesses to know how to be in compliance with the ADA. Building Business Back has partnered with JRG Attorneys at Law to provide our local businesses essential information on addressing ADA lawsuits and how to best protect your business. We will have Stephan A. Barber, Partner and Director of Litigation at JRG, provide his expertise on this matter. There is live Spanish interpretation available for this event. 
------------------
La Ley de Americanos con Discapacidades (ADA) puede ser algo difícil de navegar y aún más complicado de atender una vez que se ha presentado una demanda formal. Con el aumento de demandas en cadena de la ADA, es más importante que nunca que nuestros negocios locales sepan cómo cumplir con la ADA. Building Business Back esta colaborado con JRG Attorneys at Law para presentar a nuestros negocios locales información esencial sobre cómo atender las demandas de la ADA y cómo proteger mejor su negocio. Tendremos Stephan A. Barber, Socio y Director de Litigios en JRG, aportará su conocimiento en esta materia. Este evento contará con interpretación en vivo al español.
Date and Time
Thursday Mar 16, 2023
9:00 AM - 10:00 PM PDT
This event will begin promptly at 9 AM and will end at 10 AM.
-----------------------
Este evento comenzará puntualmente a las 9 AM y finalizará a las 10 AM.
Location
This is a hybrid event. You are able to participate remotely via Zoom or in-person at La Michoacana Love located at 712 E Alisal St, Salinas, CA 93905.
------------------------------------
Este es un evento híbrido. Usted puede participar en línea a través de Zoom o presencialmente en La Michoacana Love ubicado en 712 E Alisal St, Salinas, CA 93905.
Fees/Admission
This event is FREE. Our workshops and services are free because the County of Monterey has allocated funds to supporting our local businesses. 
---------------------
Este evento es GRATIS. Nuestros talleres y servicios son gratuitos porque el Condado de Monterey ha dedicado fondos para apoyar a nuestros negocios locales.
Contact Information
Jose Luis Barajas | Program Analyst | (831) 216-3019