BBB-LadyBoss-Women Mean Business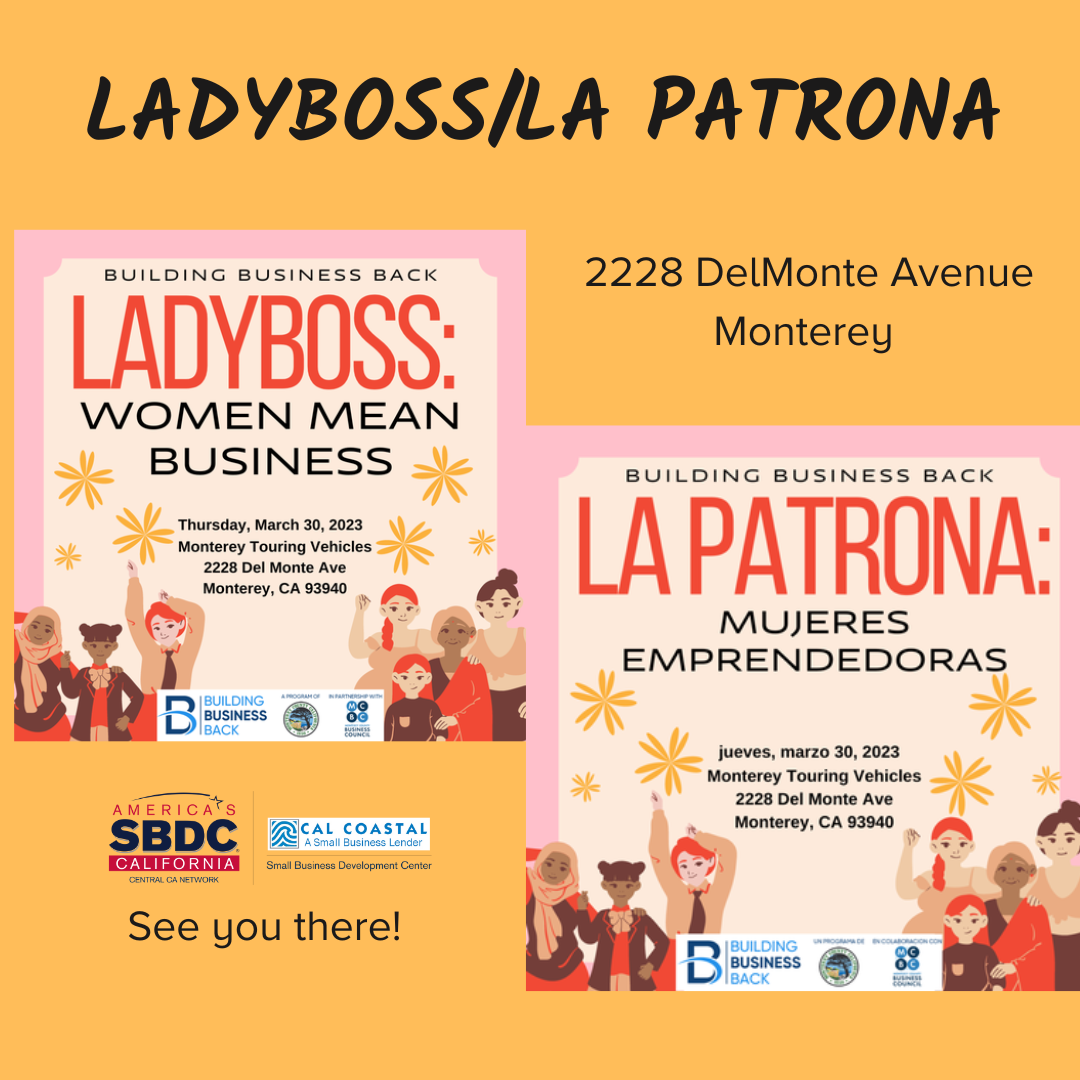 Thursday, March 30, 2023 -

11:00am

to

12:00pm
LadyBoss: Women Mean Business | LaPatrona: Mujeres Emprendedoras
Fun Fact: During the startup phase, women-led companies used two-thirds less capital than male led companies. LadyBoss: Women Mean Business celebrates the contributions of women in business. At Building Business Back, they are committed to supporting all businesses in Monterey County especially our women-owned businesses. Join us for a panel discussion on the history and outlook for women in business. Representatives from Cal Coastal SBDC will be there. 
------------
Dato Curioso: Durante la fase de creación, las empresas dirigidas por mujeres utilizaron dos tercios menos dinero que las dirigidas por hombres. LaPatrona: Muejeres Emprendedoras celebra las contribuciones de las mujeres en los negocios. En Building Business Back, nos comprometemos a apoyar a todos los negocios del Condado de Monterey, especialmente a nuestros negocios dirigidos por mujeres. Acompáñenos en una conversación sobre la historia y el panorama de las mujeres empresarias. Los representantes de Cal Coastal SBDC estaran alli. 
Thursday Mar 30, 2023
11:00 AM - 12:00 PM PDT
This event will begin promptly at 11 AM. Please arrive 15-20 minutes beforehand to register and get yourself situated.
--------------------
Este evento comenzará puntualmente a las 11 de la mañana. Se recomienda llegar con 15-20 minutos de anticipación para registrarse y acomodarse.
Location
This is a hybrid event. You can participate remotely via Zoom or in-person at:
Monterey Touring Vehicles
2228 Del Monte Avenue, Monterey, CA 93940
----------------------
Este es un evento híbrido. Puede participar a distancia a través de Zoom o presencialmente en:
Monterey Touring Vehicles
2228 Del Monte Avenue, Monterey, CA 93940
Fees/Admission
This event is FREE. Our workshops and services are free because the County of Monterey has allocated funds to supporting our local businesses. 
---------------------
Este evento es GRATIS. Nuestros talleres y servicios son gratuitos porque el Condado de Monterey ha dedicado fondos para apoyar a nuestros negocios locales.
Contact Information
Jose Luis | Program Analyst | (831) 216-3019